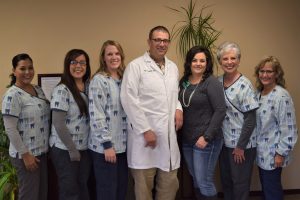 Poppleton Family Dental has been serving the Twin Falls area since 2005. Emergency care is always available in addition to our other services. We are dedicated to providing gentle and patient friendly dental procedures. Our dental clinic accepts patients of all ages. We also welcome new patients. Rest assured that all procedures are done under the supervision of professionals.
The staff at Poppleton Family Dentistry is dedicated to providing you with gentle and patient friendly dental procedures. With a warm and welcoming atmosphere, as a new or returning patient, you can rest assured that you won't need to look any further for quality dental care in the Twin Falls area.
Complete Dental Care for Your Family
Teeth cleanings
Teeth extractions
Dental fillings
Gum disease
Tooth decay
Routine Dental Cleanings
TMJ Therapy
Oral Cancer Screenings
Root Canals
Teeth grinding and clenching
Baby bottle tooth decay
Thumbsucking
Common mouth sores
Snoring / sleep apnea
Trust the office that will implement modern technology and methods to detect any pending issues before they happen. By detecting decay and other problems early, we are able to help our patients avoid the need for costly and painful dental work.
Having to get dental work done is stressful enough. You need a competent doctor and staff who will go out of their way to treat every patient with individualized care to ensure that their individual needs are being met. Call to schedule your appointment!
Technologies Available at our Clinic:
Digital X-rays
Digital Radiography reduces radiation by 90%
Computerized software
Explain each and every dental procedure
Intra Oral Camera
Highest level of dental photography
Track Light Monitor
Enhances patient experience and improves efficiency and case acceptance.
Invisible Aligners
Clear aligners are the future of orthodontic treatment.